Or so the song goes.
When I hear
Silent Night
, I think of immense quiet. That
"you can actually hear the snow falling"
quiet. Some of you southerners, sadly, won't know what I'm talking about, and for us notherners, it's getting hard to remember--what is up with 60 degrees in December?!
Anyway.
Even more "sadly" is that amidst that hustle and bustle, I find the words in those lyrics seeming so unrelateable.
The words
calm
and
bright
seem foggy.
Instead of
resting
. My soul is restless, discontent.
It's not that baby Jesus doesn't do it for me.
He does and did.
I feel like one of these women on the right:
I feel harried, frantic, insane, out of touch with what's important (sorry if you were one of those women on the right--grace to you, I'm sure you got one helluva deal).
Grace.
This morning I am counting my thanks, because last week was a pretty terrific week. In the midst of my counting, I'm breathing. Attempting to find that
"calm and bright"
feeling---it's around here somewhere.
What do you do around this time of year to get that
calm and bright
thing going on?
1079. Bundling the girls to go outside to see the full moon.
1080. A little mittened hand in mine.
1081. Letting the girls run around outside in their winter garb.
1082. A row of pigtails.
1083. Crafting at the Children's Museum--foam stickers and hats.

1084. More Children's Museum fun!
1085. The pure and utter joy and delight that comes from playing with a balloon.

1086. Celebrating second birthdays with friends.
1087. Pinterest!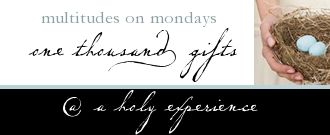 ...all is bright...