I found this weekly photo photo challenge that works really well here. I love quotes, and I love taking pictures--Quotography! Perfect.
This week's topic: photography. I am not a photographer, but I like to pretend that I am, and I sure like to take lot of pictures of our girls.
A good snapshot stops moments from running away. ~Eudora Welty
I remember this day. The girls were starting to play together, and entertain each other--both giggling.
Bliss.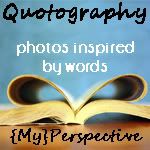 Twinfatuation: Way Back When-nesday.