Welcome to another week of
Mama Loves
! I'm so thrilled that you stopped by!
Not sure what
Mama Loves
is? Check out the
Mama Loves page
for the scoop on what Mama Love is all about.
Also---to see all the amazing ideas that have been shared here, check out the
Mama Loves Pinterest page
. So many crazy-good ideas there!
_________________________________________________________________________________
Sorry I'm a day late with this. I decided to
leave my husband and babies
for a quick trip home Friday night.
I meant to get a post done and ready before I left, but it just didn't happen. I spent way too long trying to get my nails to look like
this
:
For the record, it really
does
work (and it looks awesome!) if you're patient enough to let the polish dry all the way, which I didn't. One of the stylists that did
my hair for the hair show
had her nails done like that, and I LOVED it. Then I saw it on Pinterest. So fun!
Anyway, that's what I was doing when I should have been packing, and getting the house ready for my 26 hours away.
So. Here I am today. The girls and Brad are in the basement, so that I can write this. Have I mentioned how awesome my husband is?!?
_________________________________________________________________________________
My girls' Masa and Masi (what they call my sister and her husband) got them the
Duplo Lego Large Brick Box
set for Christmas this year.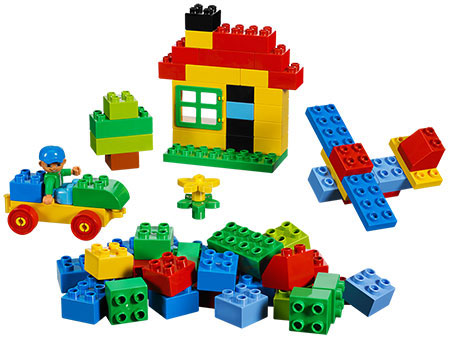 Best.Gift.Ever.
Apparently, Legos has created lots of pink and purple girl-themed Legos sets. I was a little taken back when I went to the website to find a picture of the set my girls have. So--if you must have, or just prefer, pink (or purple)--Legos can still work for you!
I'm thrilled that my sister knows me well enough to know that we would much rather enjoy the plain ole regular, gender-neutral Legos, complete with Hadley's favorite color, green.
My girls love these so much! Hadley loves to build tall towers, and the three of us have created many beautiful structures together.
Definitely a great toddler toy! It works on hand/eye coordination, as well as encourages creativity and imagination.
And, it has a little Lego car, and a flower. My girls love cars and flowers---perfect!
Can't wait to see what you're loving!